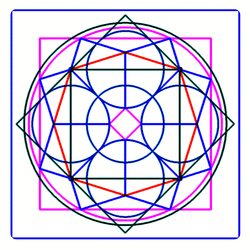 The Urantia Blessing
"And this preacher of a supernal God never ceased to proclaim this God of love.
'I dwell in the high and holy place with him who is of contrite and humble spirit.'
And once again did the fear-destroying gospel of Melchizedek shine forth
for the blessing of mankind".
WDJT
In the spirit of Melchizedek, our planet's third epochal revelation, this "Urantia Blessing" has again appeared with the arrival of our fifth epochal revelation, the Urantia Papers, compiled then published in 1955 as the Urantia Book.

By the end of the second millennium, the window to this revelation had opened. The introductory Foreword and all Papers of this revelatory text, an unprecedented blessing, are presented on the following pages for dedicated study, comparative research, or for "just browsing".

The two publishers of the Urantia Book maintain excellent web sites for learning more about this continuing Urantia Blessing and its worldwide dissemination: ~ The Urantia Foundation, ~ The Urantia Book Fellowship.
---
"There have been many events of religious revelation but only five of epochal significance"
(92:4.4)